When you think about Chicago, it's exhilarating—and sometimes overwhelming. "Chicagoland" is America's third largest metropolitan area and home to 10 million people. That's a lot of people.
Life here is about working and commuting. Two million people ride the famous "L" trains and bus lines every day. Life is about politics and sports. Chicago has several famous mayors, three championship sports franchises, and the Cubs. And it's about strong family ties and cultural heritage. Most people have a strong identity as Chicagoans, even those who live in the 'burbs.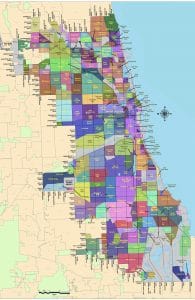 A mission field so large almost sounds too much to tackle, until you consider that all these people live in a network of 77 neighborhoods and 200 suburban towns and villages. Chicagoland is a big region of small communities.
Many of them are defined by ethnicity and language. The city is home to people from Eastern European backgrounds, Hispanics, African Americans, and Asians. And the suburban counties remain the fastest growing in the region, fueled largely by the migration of Hispanic and Asian people groups.
In this vast and diverse environment, you can find the corner and the people group where God wants to use you.
With 92% of our church plants still doing well after five years, you can see God is at work here in middle America. In our state at least 8 million of our 13 million residents do not know Jesus Christ. The only thing greater than the spiritual need is the opportunity for the Gospel.
Who lives here:
53% Anglo
22% Hispanic
17% African-American
6% Asian
2% Other
31% claim to be Catholic
14% identify as Lutheran
11% express no religious presence or no interest in religion
COMING: locations in Chicagoland where church plants are needed