Like that tale of two cities, Metro East St. Louis is about the best of times and the worst of times. Here, within sight of the Gateway Arch is a string of river towns along the mighty Mississippi River that enjoy all the pleasures of suburban life, and one notably that suffers great economic despair. Yet all them have deep spiritual need.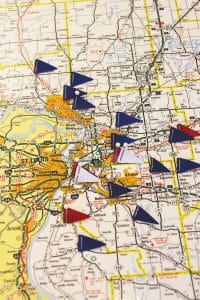 From this area Lewis and Clark set out to discover the rest of America. It was here, barely 50 years later, that Mark Twain piloted riverboats and wrote about quirky characters in search of meaning and of freedom.
Today the search continues.
Nearly 3 million people live in the St. Louis metropolitan area, and about a third of them reside on the Illinois side. For the most part, life on our side of the River is prosperous. Lots of suburban families chase the American dream in these communities, enjoying together-time and leisure time. Family is important here, as young parents create good memories for their children.
And, yes, we also have the city of East St. Louis, where violence, crime, and unemployment make daily life a struggle for most residents.
What's missing for many people in this region is the spiritual life. Life is active and it may be abundant. But barely half of people in Metro East St. Louis claim interest in life eternal. They're so busy with everything else.
Who lives here:
80% Anglo
17% African-American
6% other
2% Hispanic
48% are self-identified as religious, with the majority having Catholic or Lutheran background, but less than 15% of residents are connected with any evangelical church.
38 languages are spoken, representing 123 people groups.
There is 1 SBC church for every 8,000 residents.
COMING: locations in Metro East where church plants are needed