Welcome to the middle. In the middle of America, in the middle of Illinois is another middle phenomenon: the middle-size city. Actually, they're scattered all over Illinois, but there's a swath across the mid-section of the state where mid-size cities thrive. In Illinois, there are 30 cities of 50,000 people, and another half-dozen just topping 100,000.
"Will it play in Peoria?" was the question during vaudeville days, when the U.S. city with the most theaters per capita was known for predicting middle class reactions. Later, sitcoms and soap operas were set in these Illinois locales, both real and fictitious, because their creators thought this size city was just right to depict American life. Today soft drink makers and fast food marketers test their products in these cities to gauge American tastes.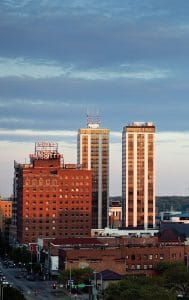 But now, the people in mid-size cities are concerned with getting by. In the middle ground between rural and suburban lifestyles, the tension between high and low incomes is especially evident. The troubles of the major metros are mirrored in their smaller counterparts—unemployment, failing schools, drugs, crime. And the consumerist tendencies of suburbanites have their effect here, too. So much time is spent at the mall or the big box store.
As a result, spiritual matters are pushed to the side because everyone is busy with everything else. In the place once home to faith, family, and the American ideal, church has become optional, and many have opted out.
In this context, the challenge for believers is to bear a credible Christian witness amid many competing interests.
Who lives here:
About 2.5 million people live in mid-size cities spread across Illinois.
These cities are predominantly white, with significant sectors of African-Americans.
12% call themselves "evangelical Christians."
2 million or more are lost.
COMING: locations in Mid-size Cities where church plants are needed